Oct
27
2021
Figures of the Future: Latino Civil Rights and the Politics of Demographic Change
October 27, 2021
12:00 PM - 1:30 PM
Address
RSVP via ZOOM Link, Chicago, IL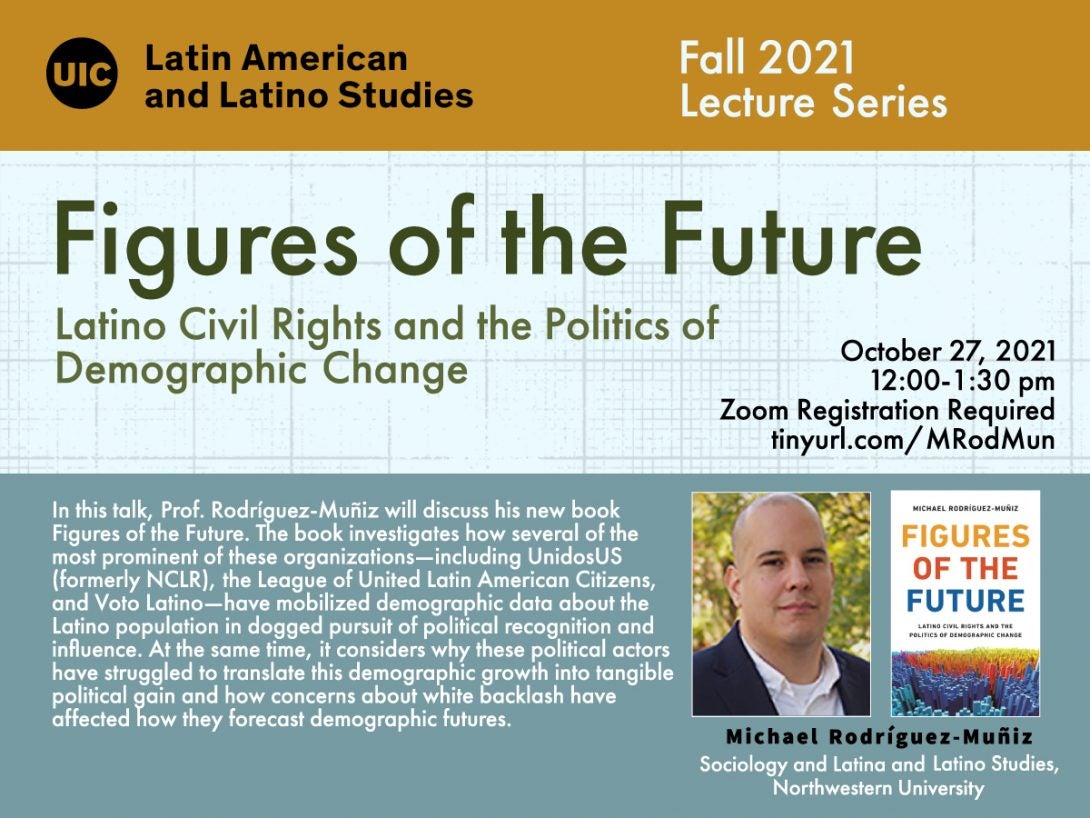 In this talk, Dr. Rodríguez-Muñiz will discuss his new book Figures of the Future. The book investigates how several of the most prominent of these organizations—including UnidosUS (formerly NCLR), the League of United Latin American Citizens, and Voto Latino—have mobilized demographic data about the Latino population in dogged pursuit of political recognition and influence. At the same time, it considers why these political actors have struggled to translate this demographic growth into tangible political gain and how concerns about white backlash have affected how they forecast demographic futures.
Michael Rodríguez-Muñiz was born and raised on Chicago's northwest side. Prior to graduate school, he led and participated in several Puerto Rican-focused grassroots and activist projects in the Humboldt Park/West Town area. He received his PhD from Brown University, his MA from the University of Illinois-Chicago, and his BA from Northeastern Illinois University. Michael joined Northwestern's Department of Sociology and Latina/o Studies Program in 2016.
His first book is Figures of the Future: Latino Civil Rights and the Politics of Demographic Change (Princeton University Press), which is based on his award-winning dissertation. In addition, he has published on censuses, poverty knowledge, Latino identity formation, and the relationship between critical sociologies of race and science and technology studies.
He is currently engaged in a collaborative interview-based project on race and political trust. His next book project will explore the history and afterlives of political repression against Chicago's anti-colonial Puerto Rican movements. This project involves efforts to create a community-based archive.
He teaches courses on race and racial knowledge, qualitative/ethnographic methods, and Latino identity and politics, among others.
RSVP
Date updated
Oct 12, 2021