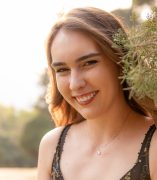 Isabella Pereira Nikel
M.A. Student and Teaching Assistant
LALS
Contact
Address:
601 S Morgan Street
Email:
About
Isabella Nikel graduated with Honors in International Relations from Universidade Federal de Santa Catarina in Brazil. Isabella is passionate about working with immigrants and refugees. She worked at the Reference Center of Assistance to Immigrants and at the Federal Public Defenders' Office as an intern providing legal support in migratory regularization to immigrants, refugees, and stateless people in Brazil. During this time, she noticed how little reliable information is available to migrants and refugees, and this inspired her to co-found an association called "MigraNós" with the goal to bring awareness and protection to immigrants and institutions assigned to help them.
She has also worked as an International Cooperation Officer in the Coordination of Cooperation and International Relations of the Public Defender's Office in Brasilia, in which she was responsible for the implementation of international projects to advance the promotion of human rights.
In her free time, she curates and mediates a book club focused on Global South representative readings. She is often found reading magic realism books and humming show tunes to herself.