Faculty Highlight: Barbara Sostaita
Professor Barbara Sostaita is a scholar of religion and global migration. She grew up undocumented in the south, the daughter of a minister who taught her how religion informs and shapes migrant-led organizing. Prof. Sostaita holds a PhD in Religious Studies with a Certificate in Women's and Gender Studies from the University of North Carolina at Chapel Hill.
Currently, she is completing a manuscript titled Sanctuary Everywhere, an ethnographic study of care practices in the Sonora-Arizona borderlands. This book and her other projects consider how people on the move--including migrants, artists, and organizers--engage with the sacred to cross and transgress borders. At UIC, she teaches courses on Latinx religions, transnational migration, and undocumented social movements. This semester, she teaches LALS 286 Issues in Latino Identity and LALS 385 Latino Social Movements in the United States.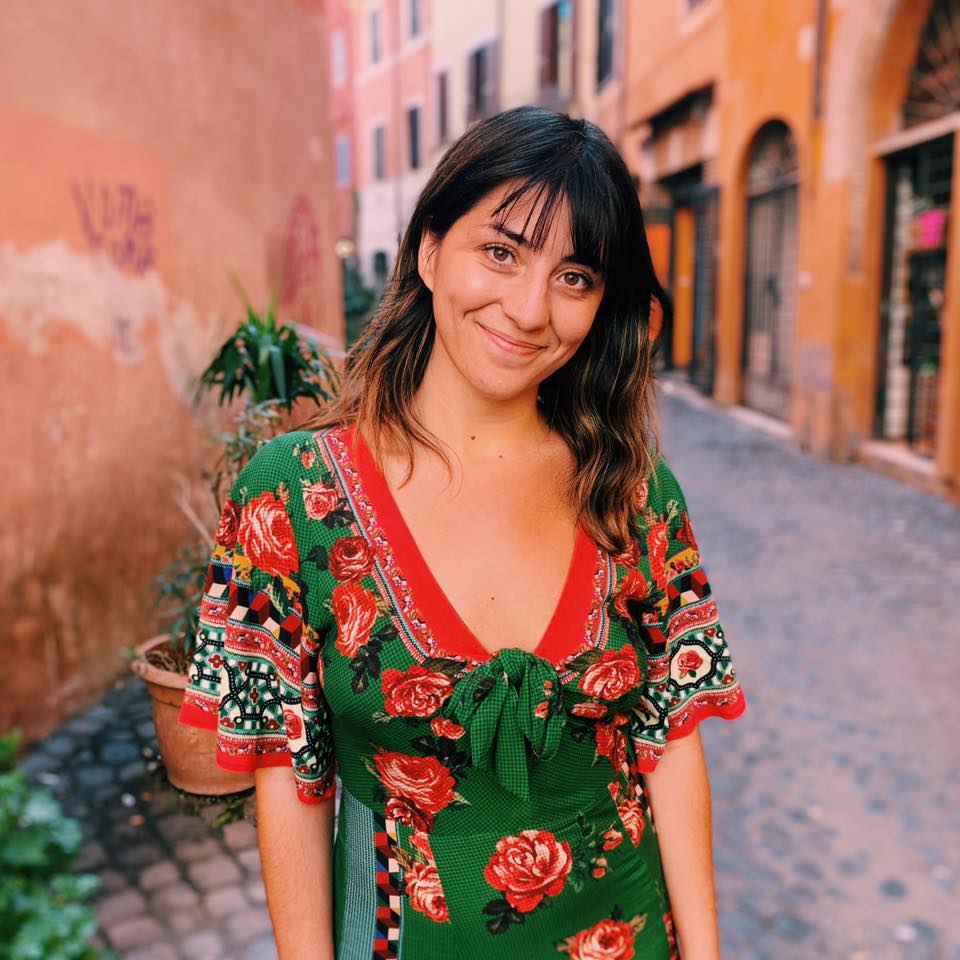 Tell us about yourself.
My name is Barbara Sostaita, I have a PhD in Religious Studies from the University of North Carolina Chapel Hill. I grew up in North Carolina, in a place called Rural Hall, and spent the majority of my young adult life, and professional life, in North Carolina. For the past year, I've been at Harvard University doing a postdoc at the Mahindra Center for the Humanities where I've been working on my first manuscript titled Sanctuary Everywhere. It's an ethnography of what I call "fugitive care" at the Sonora Arizona borderlands. My book traces the ways migrants and other activists are sheltering and defending one another as well as subverting the militarization of the border.
What is your educational background? 
I have a Bachelor of Arts in Religion and International Relations. I thought I wanted to go into politics as an undergrad, and that I wanted to work with the United Nations. I received a Master's in Religious Studies from Yale University and it was while I was there that I spent a summer in Arizona for the first time, volunteering with a group called the Samaritans. Their work is devoted to placing water and life saving aid in the desert for migrants. They leave food, often leaving blankets, water; they also offer direct aid to migrants they encounter. After spending a summer with them, conducting ethnographic research, I realized that was what I wanted to do for the rest of my life. As soon as I found out I could have a career just talking to people and engaging in direct aid and participating in these movements and helping document them and think critically about them—I think I was convinced that this was what I wanted to do.
The reason I'm in Religious Studies is because I'm very interested in how these movements are drawing on categories of the sacred and transgression, and religious studies theories to think about their work. Most of them are based in religious groups, so the Tucson Samaritans are based in a Presbyterian church, No More Deaths—which is another direct aid organization—is Unitarian Universalist. So, I'm really interested in religion and the sacred, and thinking about these categories. But probably, my interest in religion goes back to, always, being the daughter of an immigrant pastor. So, my dad is a pastor, I grew up in his church, and seeing the space of the church as one for organizing and space for movement building, and also community building. It was my experiences helping my dad build his church and being a part of that community, that I think, really first introduced me to religion and Religious Studies.
Why do you enjoy the field of Religious Studies and ethnographic research?
I think why I enjoy it is because of the creativity that it allows me. I think that in ethnography, there's this ethnographic tradition of narrative experimentation and creative forms of storytelling that really attracts me to the field of study. The idea of learning alongside people in the struggle, and in struggle, is something that I'm committed to. With Religious Studies, it's just so expansive; it's an interdisciplinary field and so being in conversation with other Religious Studies scholars, I'm constantly introduced to new methods, approaches, questions, and theories. It's very exciting to meet and always be learning from the people around me.
You mentioned that you're currently working on a manuscript. Can you talk more about that?
Sure! Like I mentioned, the manuscript, Sanctuary Everywhere, is an ethnography and my fieldwork is in the Sonora Arizona borderlands. Particularly, I'm looking at people practicing care in the desert and reimagining sanctuary, not as a designated place of protection—not as a building or a church or a city, like a designated site of sanctuary—but rather, those who are practicing sanctuary in transit, and understanding sanctuary as a set of practices that shelter and defend people on the run. I work with several people, including a deported nurse who operates an ambulance in Nogales, Sonora and treats migrants who are ineligible for care because they're not Mexican and don't have Mexican health insurance. Also, the Tohono O'odham organizers and activists who are thinking about sanctuary in relation to the land and how the land is being denied sanctuary by the border enforcement. I also work with artists and volunteers who travel weekly to the desert to install crosses at the very sites where migrant remains were found to honor and engage with the dead.
So, I'm working with different groups and people who are practicing sanctuary in the ways I understand it—as a way of tapping into and engaging the sacred to disrupt borders and to challenge militarization.
Are you working on any other projects?
I'm working on a project with my dad. As I mentioned, my dad is a pastor, and currently we're in the process of collecting and conducting interviews. I talk to him once a month about his experiences as an immigrant pastor in the South, and his background as an organizer and what it means to be organizing in the space of a church. We also talk about his experiences being undocumented, and, in the ministry, his conversion and the challenges that come with organizing in church spaces. We're conducting interviews for that, and I think that will be a manuscript one day.
I'm also working on a few other articles, including one based on my experiences with the caravan of mothers of missing migrants in Mexico. I think those are broadly the other things I'm working on, but the manuscript is the first thing on my mind.
What classes are you teaching this semester?
I'm teaching an undocumented social movements class and a Latino/Latina religions class. They're both really exciting to teach, and it's my first-time teaching both of them. It's been really fun so far.
I think the Latino/Latina religions class is really exciting to teach because once you start talking about religion with students, you start seeing religion everywhere. In the class, we opened up about thinking of Bad Bunny concerts and the idea of worshipping someone: the ritual of like performing your devotion, Bad Bunny as the icon, the religious figure, and the crowds. It's really exciting because once you think about how religion is understood and defined and how malleable religion is, you see religion everywhere in your daily life.
With my undocumented social movements class, I'm really excited about it because I grew up undocumented and was part of a generation of Dreamers who really fought to get the DREAM Act passed, and who predate DACA. It's really exciting for me now to look back on all these different movements—like movements against the "Show Me Your Papers" law in Arizona, the Deportation Defense movements, DACA movements, movements against immigrant incarceration, the abolition of ICE—and to be able to kind of think of these different moments together. Especially being able to do this with students who are also directly affected, whether they are the children of immigrants, love an immigrant, or are immigrants themselves, and to be able to trace this history of undocumented-led organizing together is really impactful. We all read about family separations in class, but it doesn't end there because people are fighting back and organizing and creatively strategizing ways to care for each other. The narrative doesn't end at what the state does, or how the state violates your ability to live and your community, but rather it continues. There's organizing in response to that, there's care, there's resistance, there's community, there's joy. I think it's exciting to teach this class for all those reasons.
Since you're new to UIC, what do you like about UIC and LALS so far?
At UIC, I really love how excited my students are about the material, and just how open everyone is to discussing new concepts and experimenting with new ideas. So far, I just love the energy of my students, especially in my undocumented social movements class, the students were just so open to bringing in the personal and thinking about how that ties into the political—I just really love the classroom experience so far.
I also love how important and central the city of Chicago is to the university and to the department. So far, everyone has stressed engagement with the city. Even in my courses, I know that my students live all over the city and they're all able to bring in examples from their communities. We're all able to have these discussion about how everything we're learning in class is really relevant to our communities and the people we live around or we live and organize with.
In terms of LALS, I'm so excited about how diverse everyone's background is, particularly with their approaches and disciplines. My colleagues come from so many different backgrounds and trainings, it's exciting to be able to have so many conversation partners about migration, policing, organizing, and social movements. The department, I think, is a really exciting space to be doing the work that I'm doing with people who are also interested in these ideas and dreams.
When you're not teaching or researching, what are you doing? 
Well right now, my interest is getting to know Chicago. I just moved here, so I have reservations to restaurants for the next five months because I'm just so excited to get to know Chicago. I also plan to check out the music venues in the city. I really love going to concerts and I have a few lined up for the fall that I'm looking forward to.
But, generally, I love music, going to music events, and reading. I'm also a beginner yogi. I love the routine and ritual of going to yoga and falling into that meditative rhythm of that.
Any book, movie, or Chicago recommendations you would like to share with students in the LALS program?
I'm so new to Chicago, but I've been doing a bookstore and library tour around the city. So far, I really love and would recommend visiting Pilsen Community Books and Exile in Bookville, as well City Lit Books.