Student Highlight: Cata Herrera
Cata Herrera is a current senior at UIC double majoring in Anthropology and Latin American and Latino Studies (LALS) with a minor in Spanish.
She is interested in researching the decolonization of education, the intersection of video games and anthropology, and learning about how people around the world are defending their natural resources. She is also fascinated by the idea of learning by listening. In Summer 2021, Cata was paid intern at the National Museum of Mexican Art where she assisted in archiving and organizing art for the museum. After graduation, she plans to travel and visit Mexico where she can learn more about her parents' hometown and build a more intimate relationship with the community there.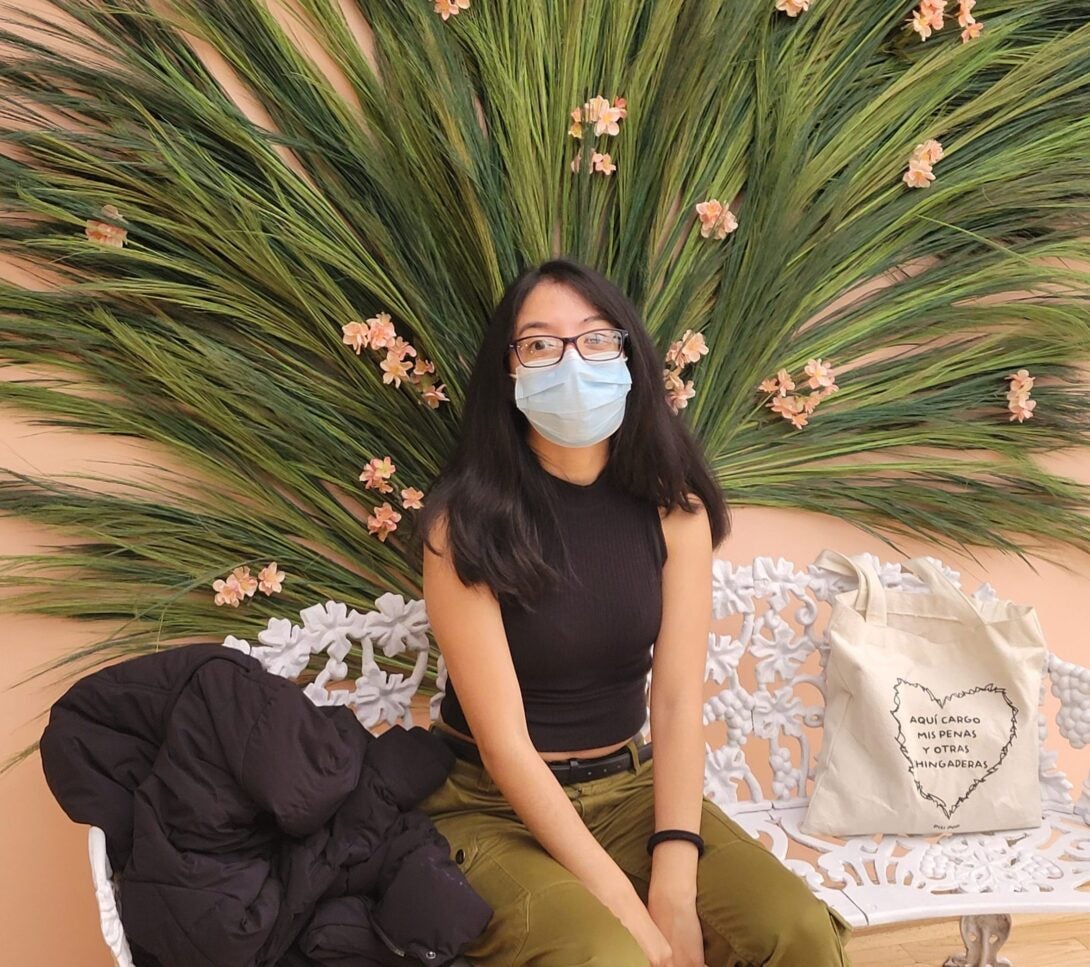 Why did you choose to major in Latin American and Latino studies?
For Anthropology, I've been interested in it ever since my cousin took me to an Anthropology museum. But, for LALS specifically, my sister studied LALS and my brothers were always interested in Latin American studies, so I grew up with a family that was always involved and interested in that kind of cultural learning. Being with my older siblings, especially, I was inspired to pursue a major in this field.
LALS provides something that a major in Anthropology doesn't, which I think a lot of times is critical thinking and empathy about the world. In general, LALS and ethnic studies gives us the tools to see the connections between things, like the interconnectedness between racism and gender, and it just doesn't stop there. It allows us to critically think about our own place in the world; how we're privileged or disadvantaged. LALS helps put yourself in the research, and see these problems in the world as not separate from yourself or your own situations. And the program emphasizes empathy: it teaches you empathy, even if the material doesn't relate to you, it reinforces empathy and why you should care.
What I learn in LALS connects with every other class I'm in. The program also allows me to critically analyze the way the university and the departments function, which inspires me and shows other students that we can be a part of how these departments and the university function, that we can help bring the change we want to see with our education.
What do you enjoy doing outside of the classroom?
Currently, I am the president of the Anthropology club at UIC. But outside of campus, I really love playing video games and reading webtoons and light novels. I'm open to exploring different mediums as long as they have a good story.
Is there a specific accomplishment that you're proud of?
The accomplishment that I'm the most proud of is my internship with the National Museum of Mexican Art. Internships are always something I thought about doing, but I thought that they were mostly not accessible to me since I can't afford to have an unpaid internship. I also don't think it's fair to be an unpaid intern while doing a lot of work for an organization. Luckily, though, the National Museum of Mexican Art participates in this program that offers people who are in financial need to get paid internships. I actually learned about this opportunity through the LALS Community Specialist who sent out an email with this internship listed. I applied and didn't think I'd get it. I love this experience though, because Museum Studies is another thing I'm interested in, as a part of Anthropology, but it's not talked about enough through my coursework since Museum Studies is its own program at UIC.
As an intern at the National Museum of Mexican Art, I helped archive negatives and photos by cleaning and scanning them into an online format. I was primarily working on this photographer's images, Adalberto Barrios. I also had to organize them into titles and folders. My supervisors and other staff would also teach me about curating, transportation of artwork, photography, history of the museum, etc. which was really cool!
This experience really opened my eyes to the way museums work with the community. At least for the National Museum of Mexican Art, museums don't have to be static or be a monument for the artifacts of the past. Museums can change depending on what they see the community wants. I also learned that museums can help serve the community and host programs that are just so cool for the community. They [museums] have this way to not treat people as objects but to see them as partners in creating an exhibition, and treating the people as experts.
This internship is definitely one of my favorites. Internships like this one also teach you to be an advocate for yourself since some internships aren't exactly what you expect them to be.
What are your plans after graduation?
After graduation, I want to take a break from academia. I do plan to go to graduate school in the future, but not in the near future. I want to go to Mexico and learn more about the place my parents are from. I go to Mexico every year, but I want to spend more time there and build a more intimate relationship. Essentially, I plan to go there to listen and learn about everything and just taking a break from academia.
Do you have any book, movie, or Chicago recommendations you would like to share?
I will always recommend visiting the National Museum of Mexican Art, but I also recommend visiting the 3 major museums in Chicago, community museums and student exhibitions around Chicago. I usually go to student exhibitions on a whim, but they're really cool to see!
I also highly recommend watching Everything Everywhere All at Once and a documentary called Stateless.
Modified on September 16, 2022