Student Highlight: Nayeli Jimenez
Nayeli Jimenez, a life-long learner, is a senior Latin American and Latino Studies (LALS) major with minors in Sociology and Spanish for Professions. Graduating at the end of this semester, she plans to travel and visit various Latin American countries, particularly Costa Rica and Mexico.
This past summer, Nayeli interned with Hood Health Chicago where she taught local communities about healthcare practices and resources. Currently, she is an active member of the Mexican Students de Aztlán (MeSA).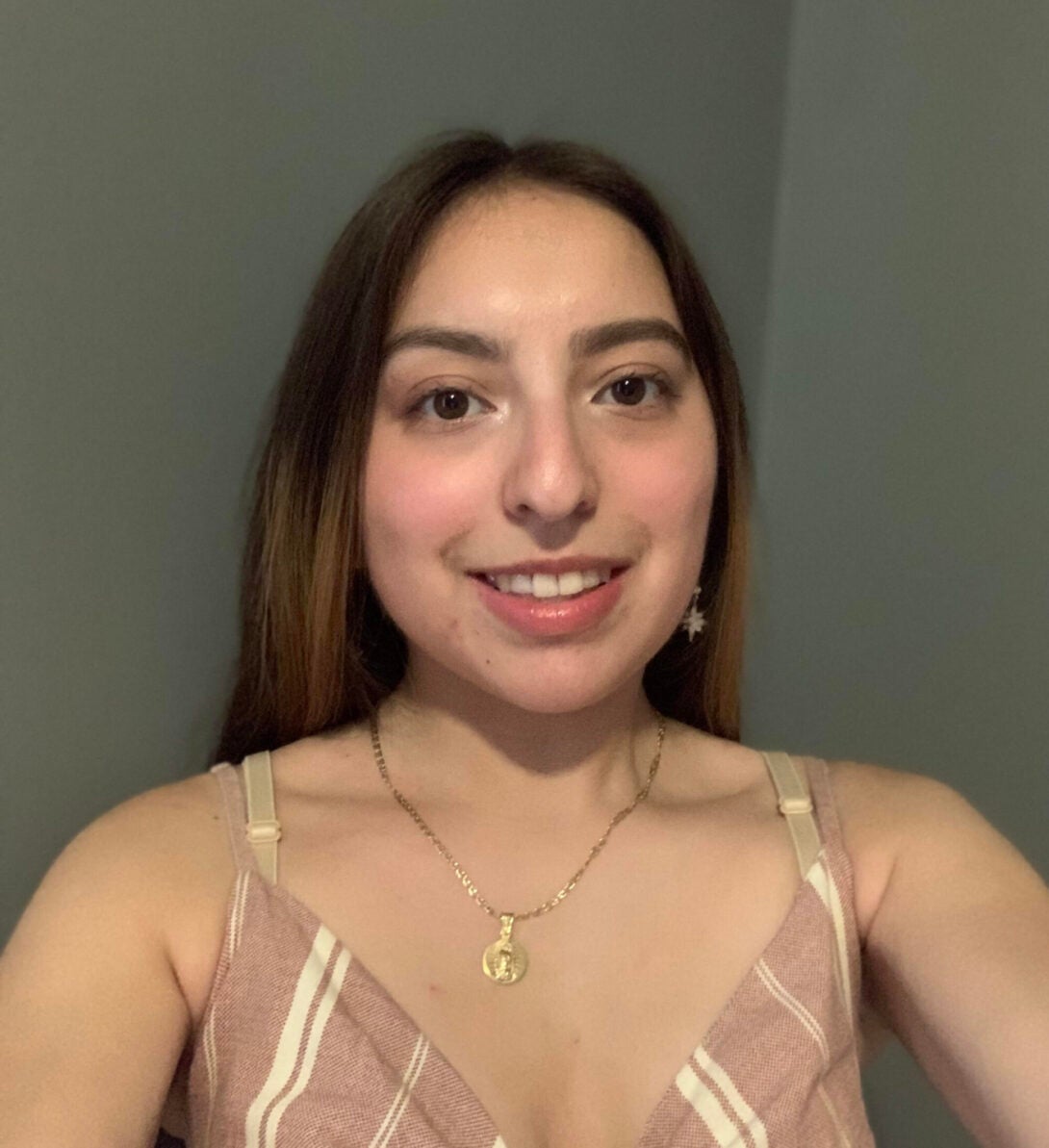 Why did you choose to major/minor in Latin American and Latino Studies?

I honestly was in another major but didn't really connect with the course material. But when I took LALS 102 with Esther Diaz Martin, I really loved and connected with it. It was just learning the history and culture of Latin America–it was something I could relate to. After taking that class, I realized that this was what I wanted to study.
Before LALS, I was undeclared. At first, I was thinking about majoring in Psychology or maybe Criminology, Law, and Justice but I didn't really want to work with the police and the government in that way. So, I just kept taking LALS classes and eventually realized the major would be a good fit for me and my interests.
It was hard at first, attempting to declare LALS as my major, I had to talk to various people just to make sure I was okay and talk through my decision and talked to LARES and LALS advisors, who all assured me that I was making the right decision.
I like all the aspects of LALS: I love the topics and how they're all interconnected with one another, and it's really interesting to see all these various topics we learn about relate to each other. With that, I also really enjoy learning about Latin America and what happens there, not only what currently is happening, but the history–the wars, movements, etc. – to better understand why they are the way they are, like economically and politically. And also seeing how Latinos live here in the U.S., and of course this part I connected with because, I am here, right? But, we didn't learn about this–Latin American history–in K-12 education, so taking these courses in the LALS program allowed me to expand on these topics and the injustices and oppressions that Latinos face in the U.S., but also how the U.S. interferes with Latin American countries. It's kind of hard to grasp at first, to understand what is happening, but LALS allows you to connect those dots and really understand the history and culture.
What are your plans after graduation?
After graduation, I plan to take a gap semester hopefully, if everything goes according to plan. I do want to visit and travel to Latin America, specifically Costa Rica. I just love the country, ever since researching about Costa Rica's ecotourism–it just looks so beautiful there, it would be a great experience. I would also like to visit Mexico–I've gone to Mexico in the past, but only to Mexico City, where my parents aren't from. I want to go see the country and gain more experience with the culture and life there.
I know I want to eventually go to graduate school and complete my master's. I was thinking of doing social work, and I was looking into UIC's joint program that combines social work with public health. I think I need a little more information about it, particularly the public health portion of it, just so I know if the program would be a good fit for me or if I should just stick to social work. I do want to eventually work for non-profits, so a degree that combines both social work and public health could open a lot of doors for me in the future.
Is there an accomplishment that you're proud of?
I'm proud of this internship I took this summer; it was with Healthy Hood Chicago. I really liked it because it was a whole different experience from other internships and other organizations that I've worked with. The people at Healthy Hood Chicago were more unified, and I felt more connected—I also gained new friendships from that experience. One of the girls I met through this internship actually lived a few houses down from mine, and I wouldn't have known that or met her if it wasn't for this experience.
The internship itself was eye-opening for me, especially since I never thought I would be interested in the health side of things—I didn't want to be a nurse or anything health-related. But my mentor was very passionate about health since she worked at the RUSH hospital, so it was really interesting to have that perspective. My mentor would constantly say, "in order to help others, you need to help yourself," especially in regard to our own well-being and mental health. All of that, I believe, has to do with the resources allocated to the community. As an intern, I was checking blood-pressure and asking the community what they needed to practice healthy living. I also learned about how to take and notice high blood pressure and diabetes, learning which groups in the community were at risk or affected largely by this. After learning all this information, the other interns and I then had to teach and educate a larger group of community members on how to take care of themselves.
This internship kind of shifted my career goals too, so now I'm considering public health organizations as well. I really never saw myself interested in healthcare or even teaching others how to take care of their own healthcare needs—it was nice to see that the community too wanted to learn these things.
What do you enjoy doing outside of the classroom?
I like to write and read poetry, but I also really enjoy reading anything that is related to my interests or to the content I'm learning in and out of class. I really like finding new things. Some of my favorite poets are r.h. Sin  and Rupi Kaur. I'm also a member of MeSA, Mexican Students de Aztlán.
Since you're graduating this semester, do you have any advice for incoming and future LALS students?
I would say just try to research more into the topics you're interested in and to be open to new topics and experiences that you come across. A lot of people in the program would learn a topic in one class and try to expand it in their other classes, which is really cool; but I think it's also interesting to try and learn more about different topics and take classes that you think you might not like. I feel like it's the classes you don't really think you'll like that end up being the best classes you've ever taken because you don't know what to expect, and you can get the most out of them. Being open to new things is what makes the LALS experience.
Do you have any book, movie, or Chicago recommendations you would like to share?
I highly recommend a movie called The Motorcycle Diaries. It's about Ernesto Che Guevara's early life before he became a revolutionary. Most people don't know much about his life before or leading up to his revolutionary life, like the most people know about him is that he was a medical student. I think the movie shows you more about him and depicts the places he went and injustices he saw through his journey that led him to be the revolutionary that we know him as.