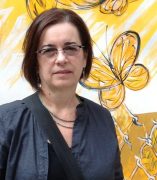 Rosa M. Cabrera, PhD
Director and Adjunct Lecturer
Rafael Cintrón Ortiz Latino Cultural Center and LALS
Pronouns: She/ Her/ Hers
Contact
Address:
803 S Morgan St.
Office Phone:
Email:
About
Rosa M. Cabrera, Ph.D, is the director of the Rafael Cintrón Ortiz Latino Cultural Center at UIC. Her research and praxis work focuses on understanding environmental and climate change problems as a social issue within larger systems of power and privilege; scrutinizing the role of social and environmental justice in museums and cultural centers; and using methodologies for public engagement that are centered on the arts and humanities to harness first voice stories and community knowledge to create culturally relevant and place-based solutions.
Cabrera is an adjunct faculty in the Department of Anthropology, Graduate College, Latin American and Latino Studies Program, and Museum and Exhibition Studies. She is also a Keller Science Action Center Associate at the Field Museum and a Mellon Faculty Fellow with the Humanities Action Lab.
Cabrera earned her Doctorate in Anthropology and Bachelors of Arts in Design from UIC and has talked extensively on the role of ethnic museums and cultural centers in shaping community identity–which was the topic of her dissertation. Prior to joining UIC, she was at the Field Museum where she led the "Cultural Connections" program, a partnership of more than 25 ethnic museums and cultural centers in Chicago that formed the Chicago Cultural Alliance in 2006 under her leadership. Between 2009-2011, she was part of a research team in a project with nine Chicago neighborhoods to better understand how diverse residents, including Latinxs in Pilsen, could be engaged in the Chicago Climate Action Plan.  At UIC she has implemented projects such as the Heritage Garden to help the campus make explicit connections between environmental sustainability, cultural diversity, and social justice. She is currently working on the Humanities Action Lab "Climates of Inequality" project, which includes a traveling exhibit that amplifies local stories of environmental justice. The local story of La Villita, developed by students in her EJ course in partnership with Little Village Environmental Justice Organization (LVEJO) and Alianza Americas, reveals how environmental and social injustices intersect in this neighborhood.