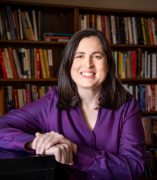 Julie Dowling, PhD
Associate Professor
Sociology and LALS
Pronouns: She/Her/Hers
Contact
Building & Room:
BSB 4132
Address:
1007 W. Harrison St.
Email:
CV Download:
About
Julie A. Dowling is Associate Professor of Sociology and Latin American and Latino Studies at the University of Illinois at Chicago. She has published articles on Latino/a racial identity construction and racial attitudes in a variety of journals including Social Science Quarterly, Sociological Perspectives, American Behavioral Scientist, and Latino Studies. Dr. Dowling's research has focused on the US Census and how definitions of race and ethnicity are understood by Latino/as. Her book, Mexican Americans and the Question of Race (UT Austin Press, 2014), explored the disjuncture between federal definitions and regional constructions of race, examining Mexican American responses to the U.S. Census race question. The book received an Honorable Mention for the Oliver Cromwell Cox Book Award from the American Sociological Association which recognizes the best book published in the field of sociology of race/ethnicity. She continued her work on US Census issues, serving on the US Census Bureau's National Advisory Committee on Racial, Ethnic and Other Populations (NAC) for six years (2014-2020), and chairing the committee from 2019 through Census 2020. This committee makes important recommendations on issues related to counting vulnerable populations, including racial/ethnic and linguistic minorities. In 2021, she received the Public Sociology Award from the American Sociological Association's section on International Migration in recognition of her continued engagement and leadership in public arenas with institutions whose decisions and policies have a major impact on the lives of immigrants, refugees, and the larger community.
Dr. Dowling is originally from Texas, the daughter of a Mexican American mother from the Rio Grande Valley of South Texas and an Irish American father from the Midwest. Prior to joining the faculty at UIC, she was an Associate Professor in the Department of Latina/Latino Studies at UIUC. She is currently working on a collaborative project on how various racial groups feel about the government. The project draws on interviews conducted in Chicago and the San Francisco Bay Area, as well as original survey data from Illinois and California.