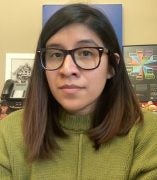 Ema Pinto
M.A. Student
LALS
Contact
Address:
601 S. Morgan St.
Email:
About
Ema is a first-generation college student raised in the Southside of Chicago. She was born in Mexico City, Mexico but has been living in Chicago since the age of five and therefore considers herself a Chicagoan. Ema received her B.A. in Latin American Studies with a minor in sociology from the University of Illinois at Chicago. After graduating, Ema decided to take a two-year gap for career exploration.
In her first year, she became a substitutive teacher at Chicago Public School, working with students in the southside and westside. During her second year, Ema began working at the Chicago History Museum. She served as an educator/workshop facilitator for the Chicago Learning Collaborative (CLC). The CLC is an education initiative that provides students with meaningful learning experiences centered around Chicago history. This initiative seeks to incorporate diverse narratives and perspectives by making student programs culturally responsive to the audiences they serve. Much of the focus is ensuring that BIPOC voices and stories are present to deter historical erasures. Making the museum more inclusive and responsive to local Chicago communities is the goal!
Recently, she has been working on elementary school programming for the collaborative. Ema works closely with educators to implement the Chicago Literacies program, which aims to help students (grades 3-5) improve their literacy skills while learning about Chicago History. Although the program is open to all, Ema's students are predominantly English learners from l immigrant communities in the South and West sides of the city. Ema's personal experiences and career experiences contributed to her interest to focus her research on race, ethnicity, class, immigration, culture, and informal economies.