Graduate Concentration
Interdepartmental Graduate Concentration in LALS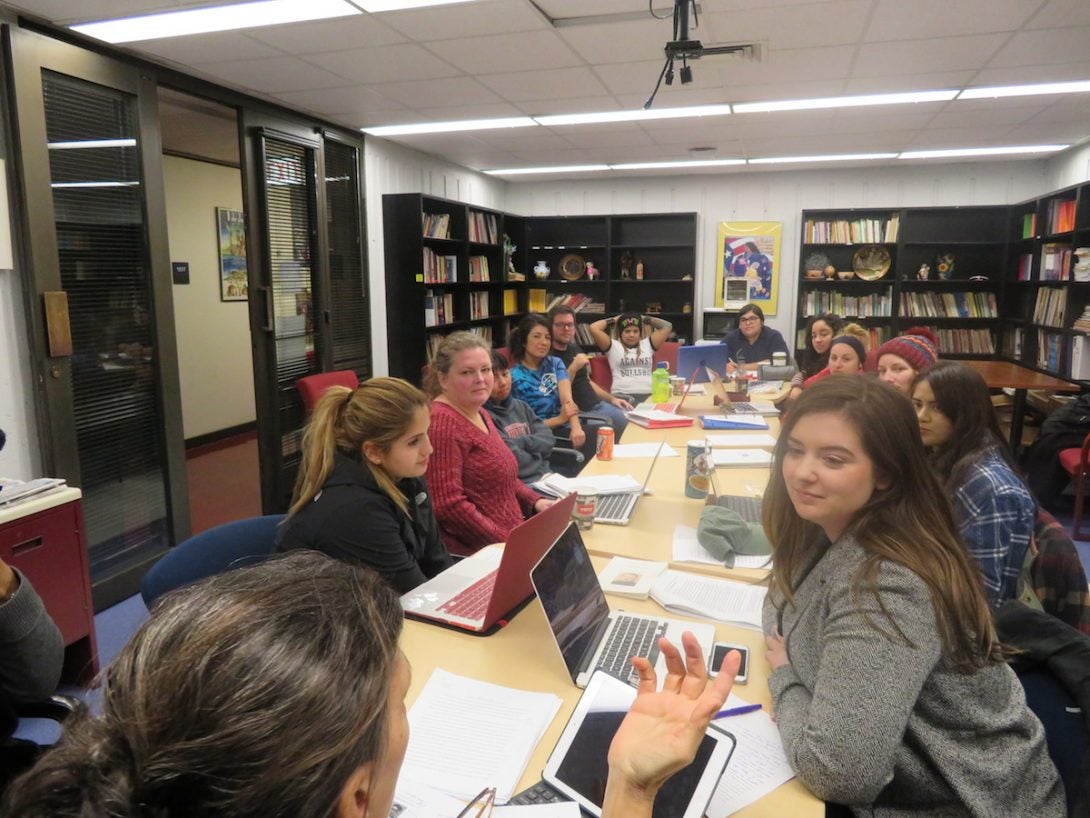 The concentration offers students a systematic, integrated, interdisciplinary approach to research on Latin America and U.S. Latinos, as well as transnational processes configuring the Western Hemisphere even as the students pursue a traditional academic discipline. The concentration is currently available to graduate students enrolled in Anthropology, Criminal Justice, English, History, Political Science, Spanish, and Sociology.
In addition to regular LALS faculty members, approximately forty other faculty members do research in or teach about issues related to Latin America and U.S. Latinos in over fifteen academic units. At present, several graduate courses are cross-listed with a variety of departments; several more are scheduled for cross-listing as LALS develops additional advanced courses.
Requirements
Concentration courses include a core seminar (LALS 501), plus 3 electives for a total of 16 units beyond or combined with graduate program degree requirements. No more than 8 hours can be taken in the student's home graduate unit.
Core Seminar
LALS 501, Latinos and Latin America in Transnational Context, is organized around theory, concepts, and methodology addressing transnational flows of people, goods, services, information, behaviors, institutions, and diseases involved in accelerated globalization processes. Students will explore transnational and globalization processes as related to Latin America and Latinos, especially with regard to economic, demographic, cultural, gender, citizenship and other issues.
Students may develop class projects and/or papers in relation to their areas or interests-including statistics, the arts, literature, migration studies, community development, etc. LALS 502 is a topics course in the fields of Latin American and Latino Studies. Topics will vary with each offering.
Concentration Eligibility
Students in Concentrated-affiliated graduate units are eligible to complete the Concentration. These students receive the M.A., M.S., or PhD after having fulfilled the requirements of the Graduate College, their graduate units, and the concentration. Graduate students may also take LALS or LALS-affiliate graduate courses as work toward their degrees, with the approval of their home departments
Individuals with a baccalaureate degree from an accredited university who wish to pursue advanced course work in Latin American or Latino Studies may apply to UIC as non-degree students. Up to 12 hours of non-degree credit may be transferred to a LALS Concentration-affiliated graduate program
A non-degree graduate student seeking entry to a degree graduate program must file a Request to Change to Degree Status form with the Office of Admissions and Records. Once admitted to a degree program, the student must file a petition for the transfer of non-degree credit. Degree programs will only accept A or B-level course work; the programs will also determine the number of hours they will accept
Advanced undergraduate students may seek instructor's approval to take particular Concentration-approved courses to prepare or demonstrate their abilities for graduate work. Such course work may count toward the LALS undergraduate major or minor. Course work that is not used to fulfill undergraduate requirements may apply toward LALS graduate concentration credit. Also, if the core course is taken to meet undergraduate requirements, it may be replaced by another LALS course with the approval of the LALS Graduate Studies Director
Concentration Enrollment Procedures
Apply to, be accepted by and enroll in your chosen discipline.
Declare intent to take concentration to your home unit.
Secure approval from your advisor or appropriate person in your home unit.
Meet with the LALS graduate advisor. Find the contact under the list of LALS Staff or email lalsadvising@uic.edu.
Consult with your home unit and LALS advisers to chose courses meeting concentration requirements.
Once you have completed all the requirements and require the Concentration to be recorded on your degree, it is IMPORTANT that you complete this form. This form asks for your personal contact and academic information, along with a list of courses you have taken to fulfill the requirements of the Concentration. Note that when filling out the form it will ask you to upload a PDF of your transcript (official or unofficial) for our records, so please have that ready before you begin. https://go.uic.edu/LALSConcentration
For more information, contact: